NuEra Tight™ uses the latest radio-frequency energy system to tighten skin and improve the appearance of cellulite. It is a non-surgical, no downtime procedure that uses the radio-frequency system with intelligent controlled heating for skin tightening, body contouring, and cellulite reduction.
Radio-frequency energy is a non-invasive treatment, and a major breakthrough in skin rejuvenation therapy. It is excellent for tissue remodeling, reduction of wrinkles and firming of loose skin. NuEra Tight™ is painless (just a warm sensation in the treated area), with minimal side effects or downtime. It can be used to heat the skin's superficial surface or reach deep tissue levels. It restores skin's smoothness, elasticity and firmness. NuEra Tight™, is FDA-cleared, effective tool to treat many age related unwanted conditions including cellulite.
What Conditions Can NuEra Tight™ Treat?
Radio-frequency affects the skin in a several ways to cause contraction and renewal of the targeted areas. As a result of heating, fibroblast cells beneath the skin increase their activity, producing healthy new collagen and stimulating ongoing skin remodeling. The superficial and deep heating aspects of NuEra Tight™ make this radio-frequency treatment an outstanding option for patients looking to reduce cellulite and the overall impact of aging skin.
Cellulite 
Skin laxity
Scarring
Roughness
Poor skin tone
Reduce crepe-like skin
NuEra Tight™ is an Effective Treatment for Skin Tightening On:
Around eyes, mouth, cheeks & neck
Jowls
Double chin
Upper arms
Inner & Upper thighs
Buttocks
Abdomen
Bra & Back Fat
Flanks
Knees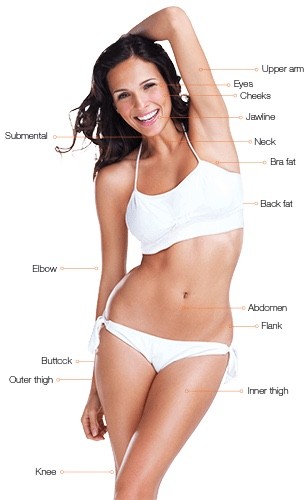 FREQUENTLY ASKED QUESTIONS
Who Is Not a Good Candidate for NuEra Tight?
Individuals with the following are Not candidates for this procedure:
Pacemaker
Pregnancy or breast feeding
Metal implants – Joints, Plates, Screws
Open wounds in the treatment area
Sensitivity to heat
How Long Does NuEra Tight™ Treatment Take?
NuEra Tight™ is a quick and effective treatment for skin tightening, and cellulite. Clinical studies have demonstrated fat loss in the treatment areas. The treatment takes about 20 minutes for the face and about 30 minutes for the body. The length of treatment is variable on the size of the area being treated. 
The NuEra™ Tight device is designed for comfort as it uses temperature control technology. During treatment, the device is slowly swept across the area being treated to gradually heat the skin without causing any pain. The treatment feels like a hot stone massage. Every person is different in his or her tolerance for heat absorption, but most patients describe a warm sensation as energy penetrates the various depths of their skin. There is no downtime and you can return to your usual routine the same day.
What Should I Expect During the NuEra Tight™ Treatment?
NuEra Tight™ skin tightening treatments are conducted in a relaxing treatment room where you will lie or sit back comfortably. After moisturizing coconut oil is applied to the skin, the applicator is gently moved over the target area in a circular or sweeping fashion. The device gradually intensifies energy output to precisely heat varying layers of tissue as the hand piece moves across the skin. This is achieved with built-in adjustability and smart heat-sensing. As energy is absorbed, you will feel a warming sensation. Facial treatments may take as little as 20 minutes, while body areas may take up to 30 minutes.
What Should I Expect After the Treatment?

The NuEra Tight™ radio-frequency non-invasive treatment has no downtime or recovery. Due to energy absorption into the subdermal layer of tissue, the skin may appear slightly red after treatment. This can last as little as a few hours, or a full day after treatment. You can expect your skin to tighten in just one treatment. Over the course of your treatment series, your skin will continue to tighten.
How Many Treatments Will I Need to See Results?

NuEra Tight™ treatments work in concert with the body's natural functions, which means every person may experience unique results. Generally, improvements begin to occur after just one session. NuEra Tight™ can be used on many body areas. It is recommended that you have at least six (6) treatments, at intervals of seven (7) to fourteen (14) days, to achieve the best results. Follow up treatments are recommended every three to six months depending on your age and response to treatments.