RF micro-needling adds the element of radiofrequency energy to the traditional procedure. It delivers RF energy deep into the dermis further enhancing skin tightening and scar reduction.
What Is the Legend Pro by Lumenis?
Legend Pro™ by Lumenis® is a non-surgical approach to skin rejuvenation treatment. This treatment features TriPollar® RF applicators, which deliver radiofrequency energy. When applied to a treatment area, these applicators deliver controlled RF energy to the dermal layer of the skin – the deepest layer of the skin.
Legend Pro by Lumenis effectively promotes the production of elastin and collagen. Both of these fibers support the skin, making this device a great choice for:
Collagen remodeling
Skin resurfacing
Wrinkle reduction
What Could I Expect from the Treatment Process?
During these outpatient treatments, this dynamic device is used to deliver controlled RF energy. This energy passes to the dermal layer of the skin, instantly triggering and encouraging your body's elastin and collagen production processes.
There is no pain associated with this treatment process, nor is there any set downtime associated with the experience. Treatment sessions are often short, and you should be able to resume your normal daily activities. Although results achieved with the Legend Pro by Lumenis will vary for each person, most people begin to notice an immediate improvement in the skin! Initial results should gradually improve as the skin tightens as a result of the formation of new supportive fibers. A series of treatments may be recommended to help you achieve the best results, and results are intended to be long-lasting.
Could I Benefit from this Treatment?
Legend Pro by Lumenis treatments are designed to be safe and effective for a variety of skin tones and types. These skin rejuvenation treatments may be performed on most generally healthy adults with realistic goals and expectations for potential treatment outcomes.
Clinically proven RF thermal skin regeneration technology with dynamic muscle stimulation
Legend Pro+'s clinically proven technologies work in synergy to achieve the results you and your patients seek treating the skin from within with 4 different technologies.
Triggering regeneration of collagen and elastin fibers, by delivering focused RF energy
a safe and effective manner, inducing controlled heating of the deep dermis.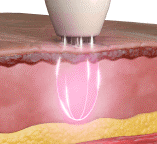 Dynamic Muscle Activation
In motion applicator activating an electrical current for noninvasive SMAS stimulation for toning and lifting of the SMAS layer to create a "Facelift" effect and toning and shaping of muscle groups in the treatment area.

Activating the body's natural healing processes by applying RF assisted ultra-thin electrodes ablation, followed by a galvanic current to the tissue to create a non-thermal effect creating microchannels to induce controlled micro-wounds, thus encouraging the generation of new and healthy skin.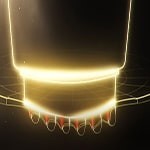 Applying contact RF and pinpoint ablation with controlled volumetric heating to achieve skin resurfacing and regeneration via a wound healing process, resulting in skin texture improvement and refinement.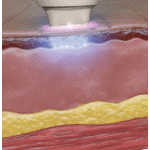 TriPollar®and DMA™ Combination
Legend Pro+ Combination of muscle toning and TriPollar® RF results in lifting and tightening of the skin.
Volumetric heating of the skin with TriPollar® RF, leads to collagen remodeling and skin tightening followed by DMA muscle stimulation, leading to lifting and toning of the SMAS layer. For treatment areas other than the face, the TriPollar® RF volumetric heating together with DMA muscle activation, leads to skin tightening and toning and shaping of muscle groups in the treatment area.